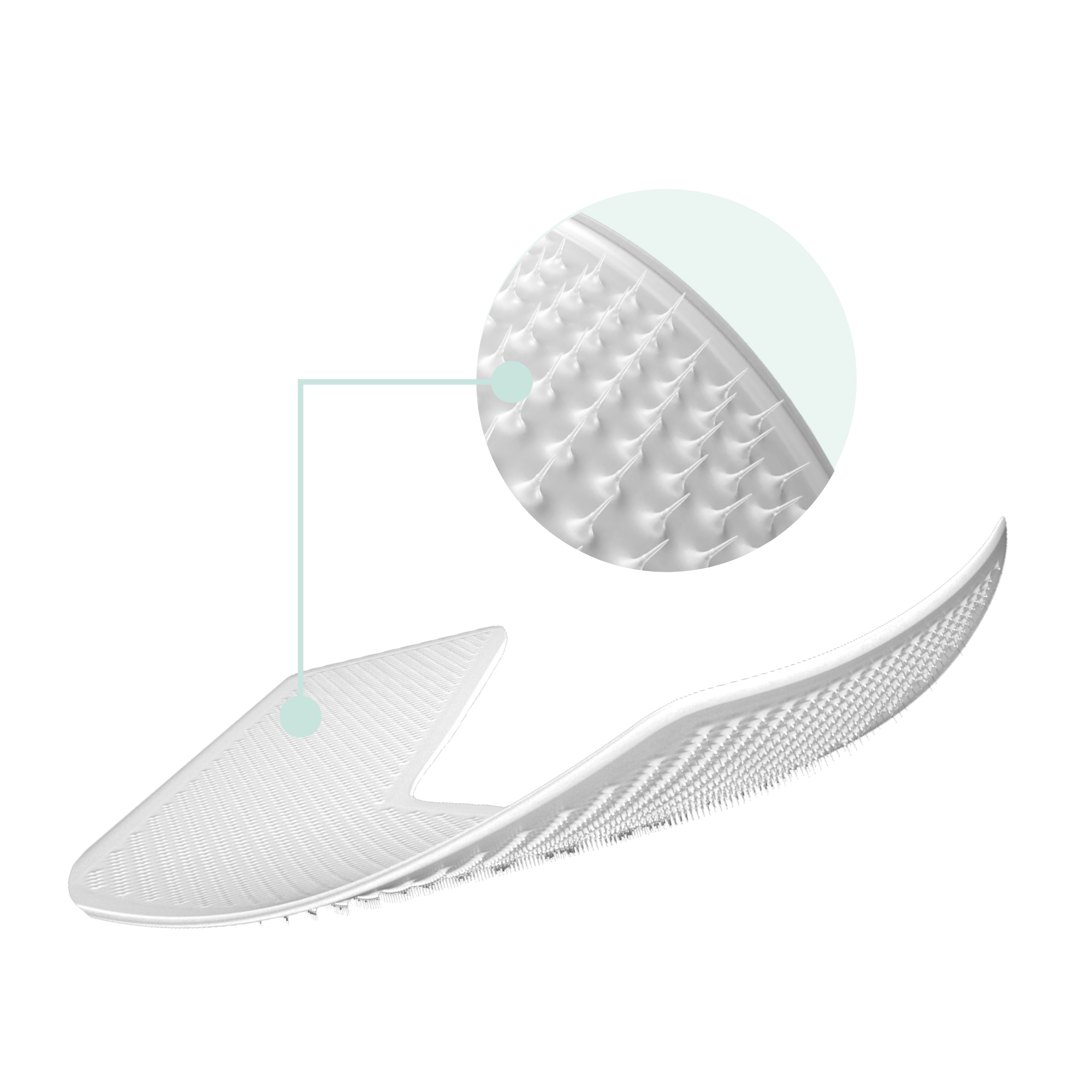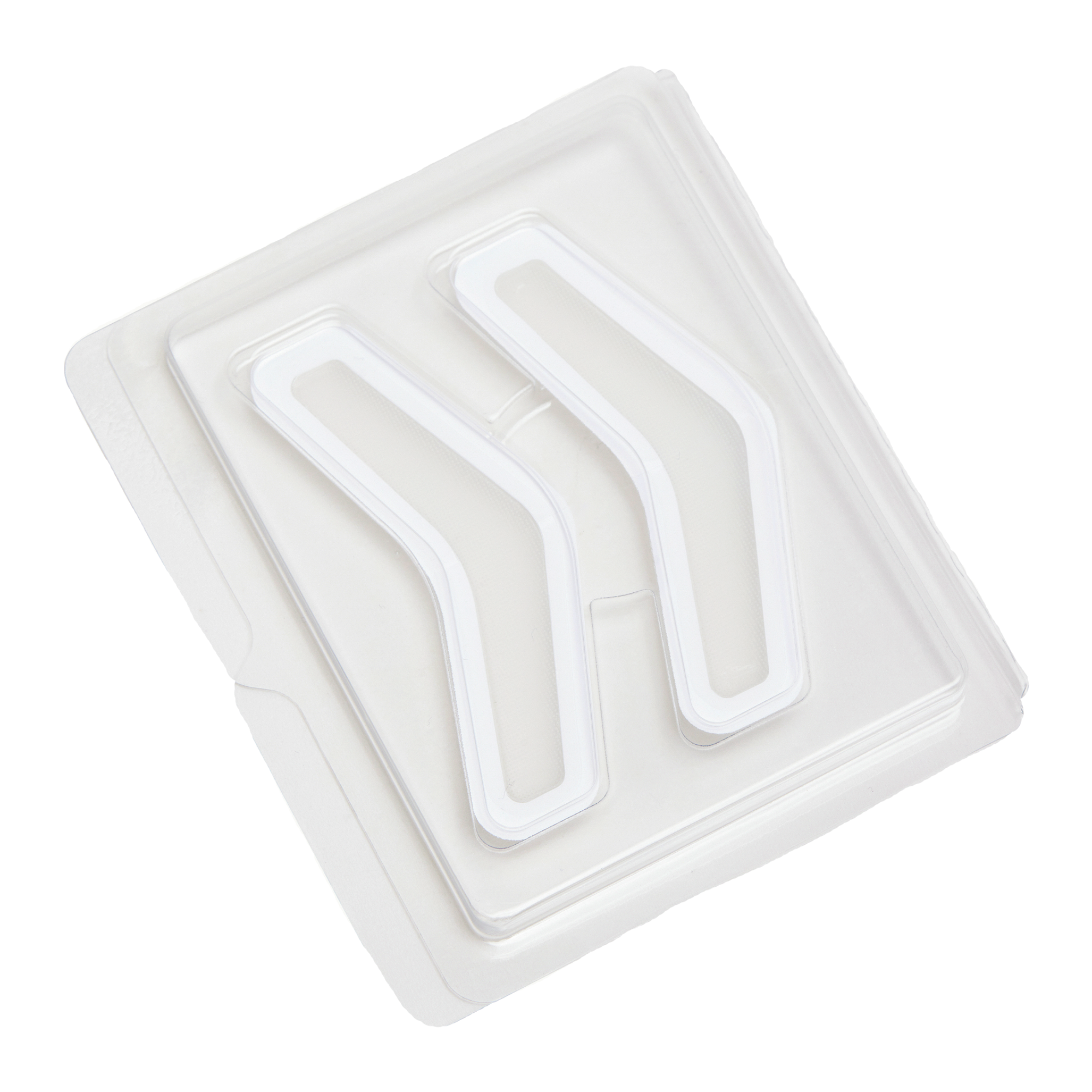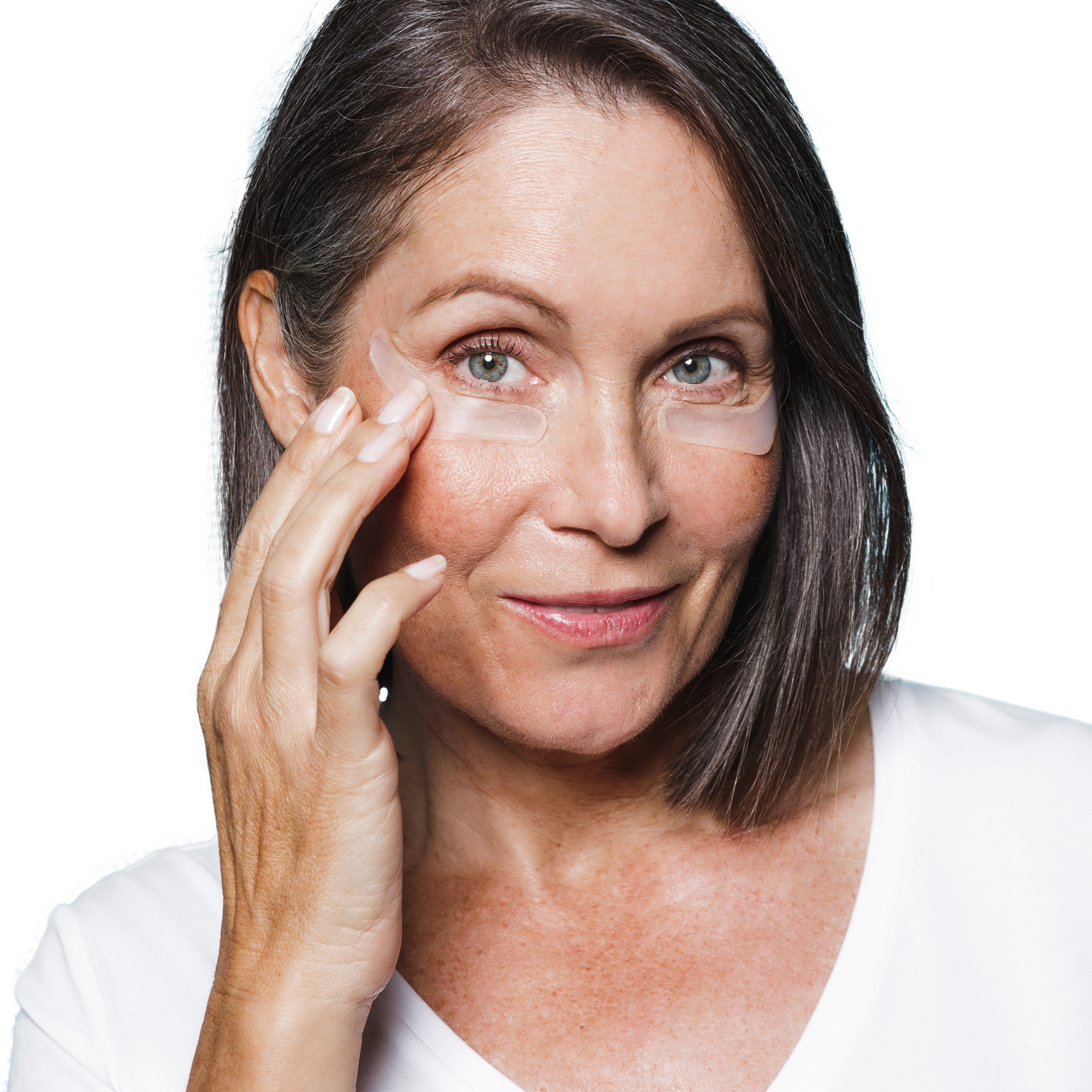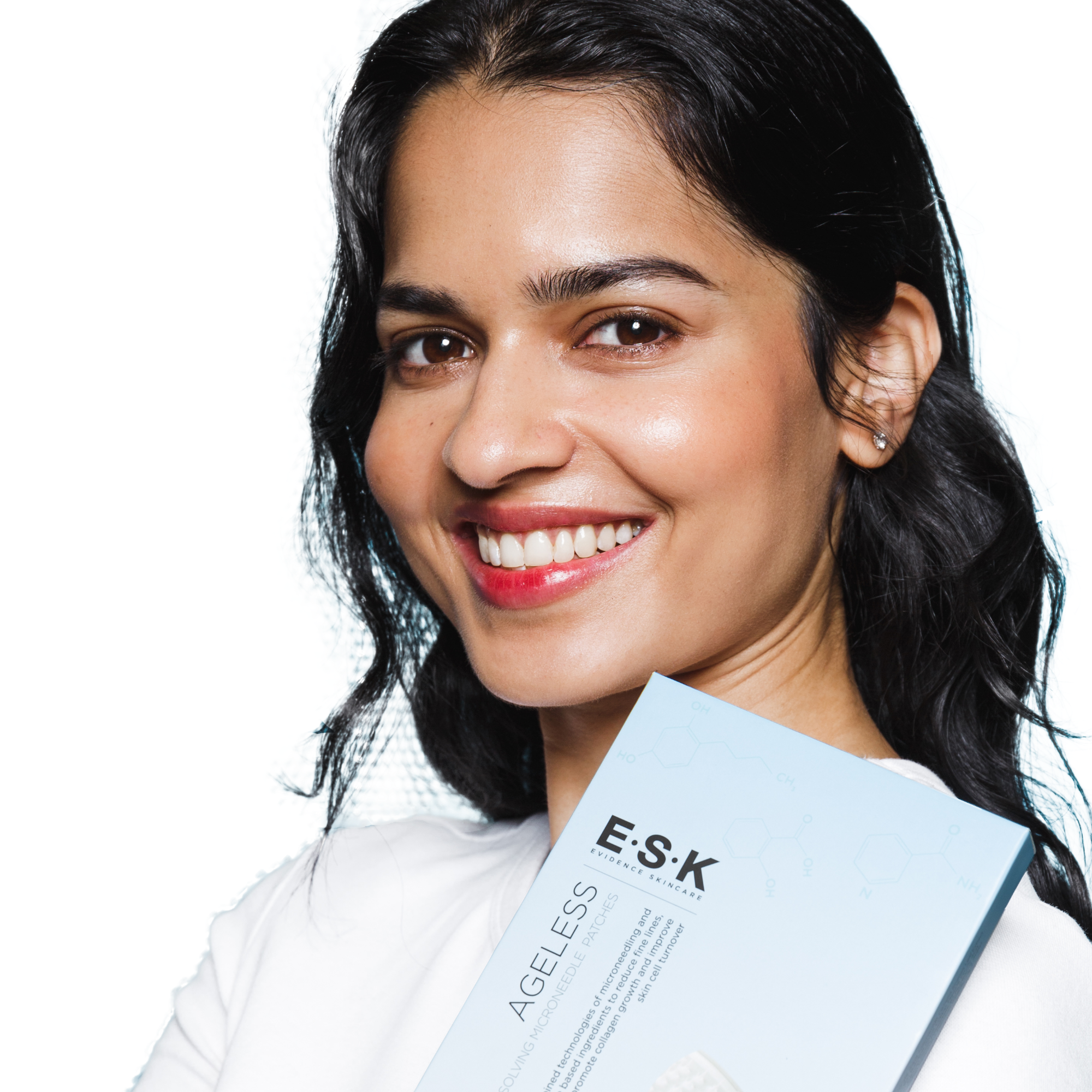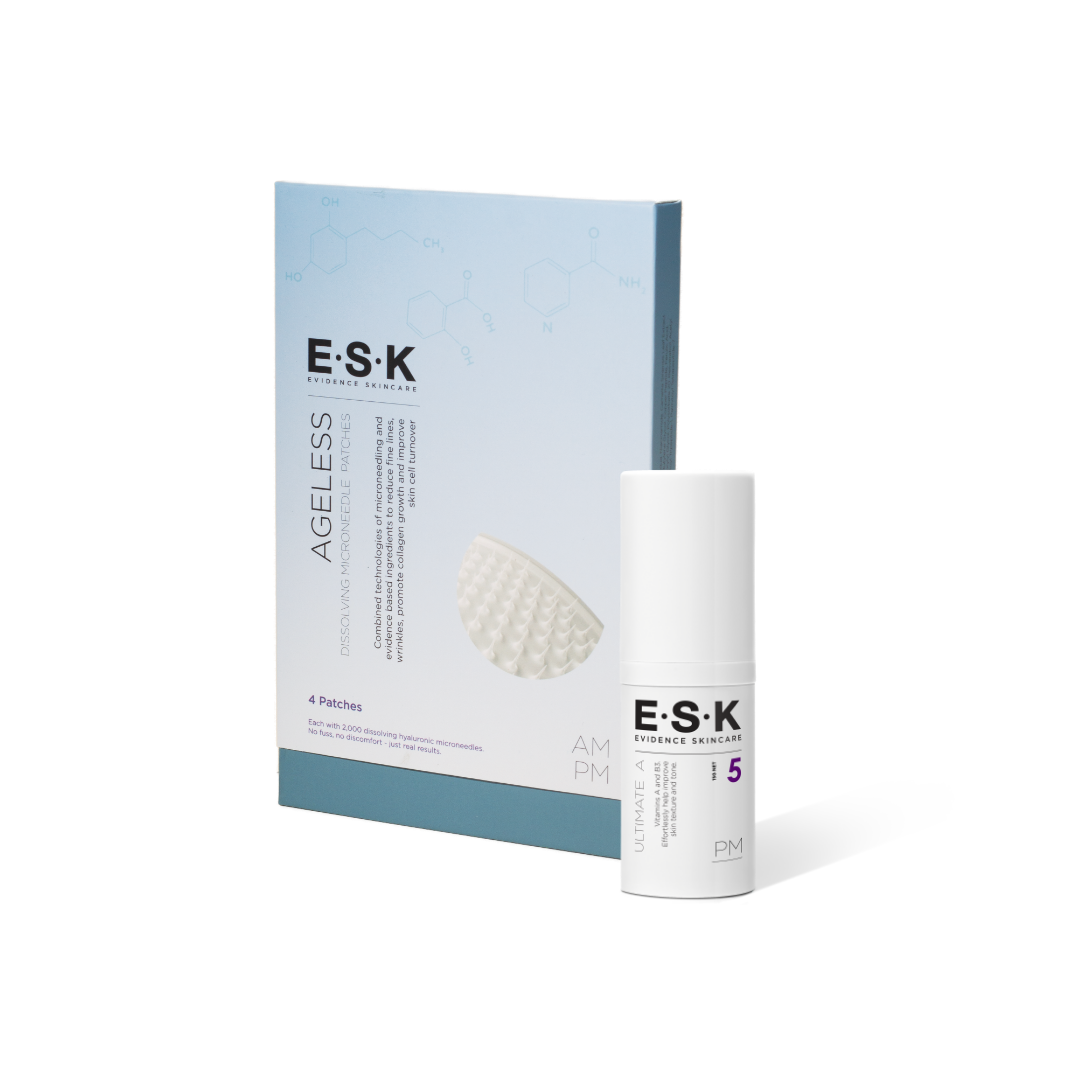 Ageless: Microneedle Patches
2600 dissolving microneedles melt under the surface of the skin for improved delivery of active ingredients. Designed for the under eye area and for fine lines and wrinkles anywhere on your face (think crow's feet, smile lines, forehead wrinkles).
More efficient delivery of traditional active ingredients for improved results.
Reduce fine lines and increased skin elasticity and volume
Reduced pigmentation
New and improved: With caffeine having emerging evidence in anti-aging (improving the skin barrier and boosting microcirculation), we added it to Ageless along with 30% more microneedles to reduce under eye bags and puffiness!

Microneedle eye patch - 4 pack contains 16 patches. 
Use on any area
with fine lines
Brighten skin
More plump
skin
100% Australian developed and owned
Cruelty free
& Vegan
Free shipping
in Australia, UK, US & NZ*
Money back
guarantee*
Description
Combined technologies of microneedling and evidence-based ingredients to reduce fine lines, wrinkles, promote collagen growth and improve skin cell turnover.
Each patch contains 2,000 dissolving hyaluronic acid microneedles embedded with Retinal, Niacinamide, Hyaluronic Acid, Copper Peptide, Ferulic Acid, Resveratrol and more. Each dissolving needle is 0.3 millimeters in length, painlessly reaching the deeper layers of the skin.
While Ageless patches will have a small effect after just one use (due to the application of hyaluronic acid). Studies showing the real effectiveness of dissolving microneedle patches allow for 8 to 12 weeks
1 pack contains 4 patches
4 pack contains 16 patches
1 pack + Ultimate A contains 4 Ageless patches & 15ml Vitamin A night cream.
About microneedles
Technological advances have allowed acne busting actives to be incorporated into dissolving microneedles. These tiny needles can painlessly penetrate the skin barrier where they create a micro-wound. This sounds terrible but when the skin starts to heal it stimulates a cascade of chemical reactions that include growth factors to stimulate new skin cells along with new collagen and elastin to rejuvenate the face.
Secondly, the micro needles allow skincare actives to get past the skin barrier (or stratum corneum) to deliver critical ingredients into the deeper epidermis and dermis.
Although they are fairly new to the skincare game, dissolving anti-aging microneedle patches have been successfully used to reduce fine lines and crows feet.
Evidence
Retinal
Retinal is the number 1 "must have ingredient" in any skin care regime. "Rewinds the clock on skin aging" and results in increased skin elasticity and reduces wrinkles, fine lines and pigmentation. Also effective in managing acne.
Niacinamide
Manages Acne, Rosacea and eczema, reduces pigmentation and improves skin barrier function. An Anti-Oxidant, assists in repair of cell DNA, improves skin barrier function and manages the skin's natural oil production increases skin elasticity and reduces pigmentation.
Dissolving Microneedles
Dissolving Microneedles can up our skincare game, by safely and painlessly getting better results than those that we get from using traditional creams or serums alone.
Since 2016, our understanding of dissolving microneedles and how they can be used for delivering skincare ingredients (and medications) has come a long way. They help in all sorts of ways, but the bottom line is that can help get better results from our skincare.
Emerging evidence
Hyaluronic Acid
The optimum Hyaluronic Acid (HA) to have in skincare is still a matter of debate. However, there is some emerging evidence for medium-size HA to be absorbed by the skin and promoting wound healing and skin regeneration.
Ferulic Acid
Ferulic acid's emerging evidence suggests it can stimulate more skin cells, fibroblasts, collagen and elastin, improve the effectiveness of Vitamin C and help to reduce fine lines and wrinkles.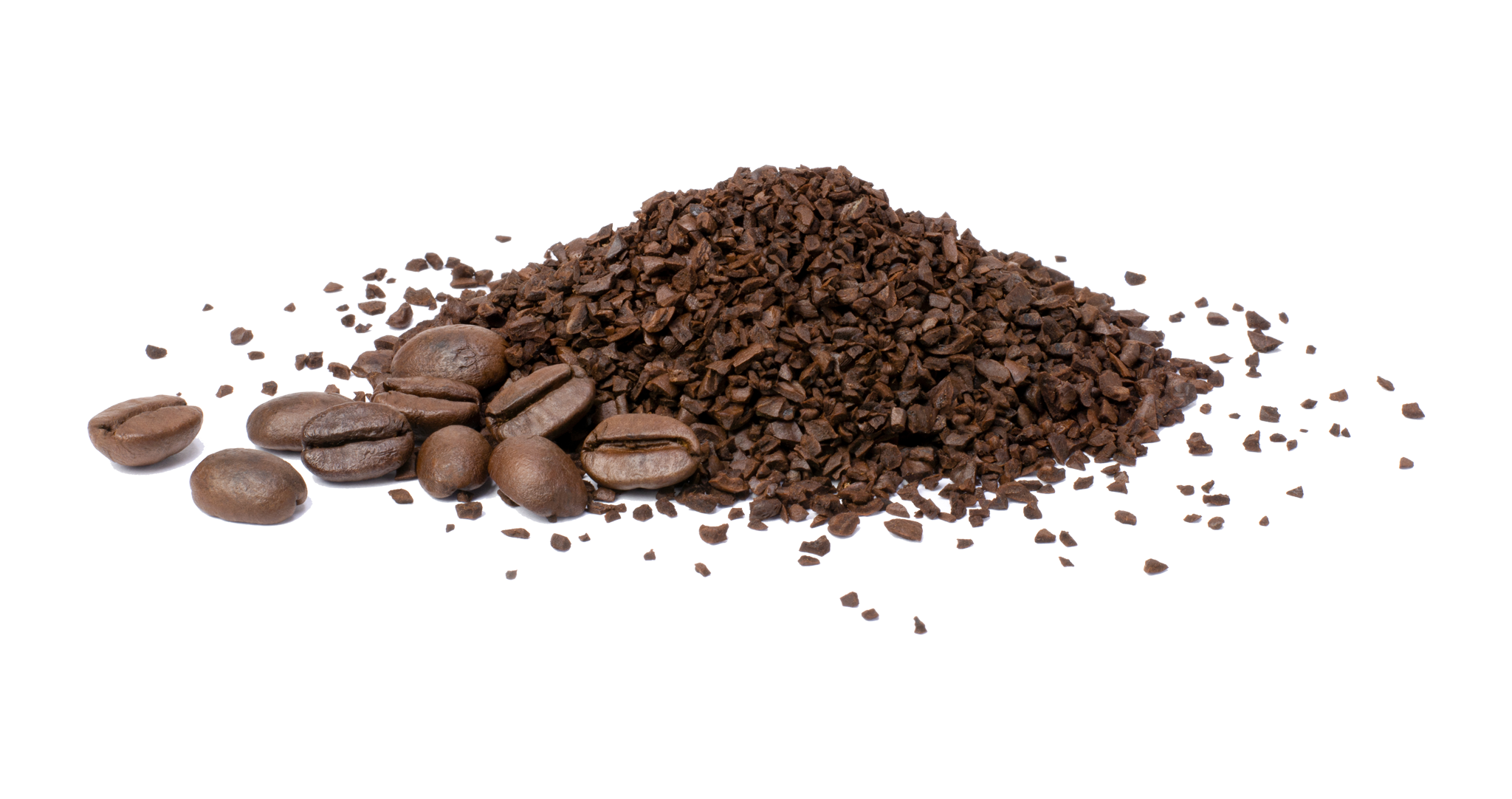 Caffeine
Caffeine is emerging as a promising addition to anti-aging skincare products. Dissolving microneedles provide a viable method for delivery.
As an anti-oxidant with abilities including protection and repair of sun damage, reduction in wrinkles, improvement in microcirculation in the skin and possibly reduction in under eye puffiness, improvement in skin barrier function and anti-inflammatory ability, caffeine is emerging as a promising addition to anti-aging skincare products. In part due to difficulties in absorption of caffeine in topical creams, it's full potential has yet to be realised. But dissolving microneedles provide a viable method for delivery.
Green Tea
The emerging evidence for green tea in skincare suggests that it can improve acne, prevent damage from UV radiation and possibly help those living with skin conditions such as dermatitis and rosacea.
Copper Peptide
Some studies for copper peptides in skincare demonstrated that they improve skin elasticity and firmness, as well as reducing fine lines, wrinkles, sun damage and hyperpigmentation.
Resveratrol
For a long time, scientists have wanted to add resveratrol to skincare for its antiseptic and anti-inflammatory. Some studies have shown potential for prevention of UV damage, from skin aging to skin cancer.
Usage
Step 1:
For use at night on clean skin or even better, over skincare. Ensure that skin is dry.
Step 2:
Remove patch from plastic packing. Remove the white protective strip surrounding the patch. Make sure not to touch the needles
Step 3:
Apply patch to the desired area. Smooth patch over the skin, applying gentle pressure. A light prickling/ scratching sensation will be felt.
Repeat until the prickling sensation is no longer felt.

Step 4:
Leave the patch on for at least 20 minutes or (preferably) overnight.

Things to note:
It is normal for a residue to remain after removing the patch (this is excess hyaluronic acid).

Recommended minimum usage frequency: 2 times weekly.

While Ageless patches will have a small effect after just one use (due to the application of hyaluronic acid). Studies showing the real effectiveness of dissolving microneedle patches allow for 8 to 12 weeks.
Ingredients
Sodium Hyaluronate, Aqua, Niacinamide, Camelia Sinesis Leaf Extract, Glycerin, Butylene Glycol, Caffeine, Copper Tripeptide-1, Ferulic Acid, Retinal, Carbomer, Caprylyl Glycol, Polysorbate 20, Pichia/Resveratrol Ferment Extract, Potassium Sorbate, Sodium Lactate, Sodium Benzoate, Phenoxyenthanol, Acetyl Hexapeptide-8, Palmitoyl Tripeptide-1, Palmitoyl Tetrapeptide-7
We think you might also enjoy these products