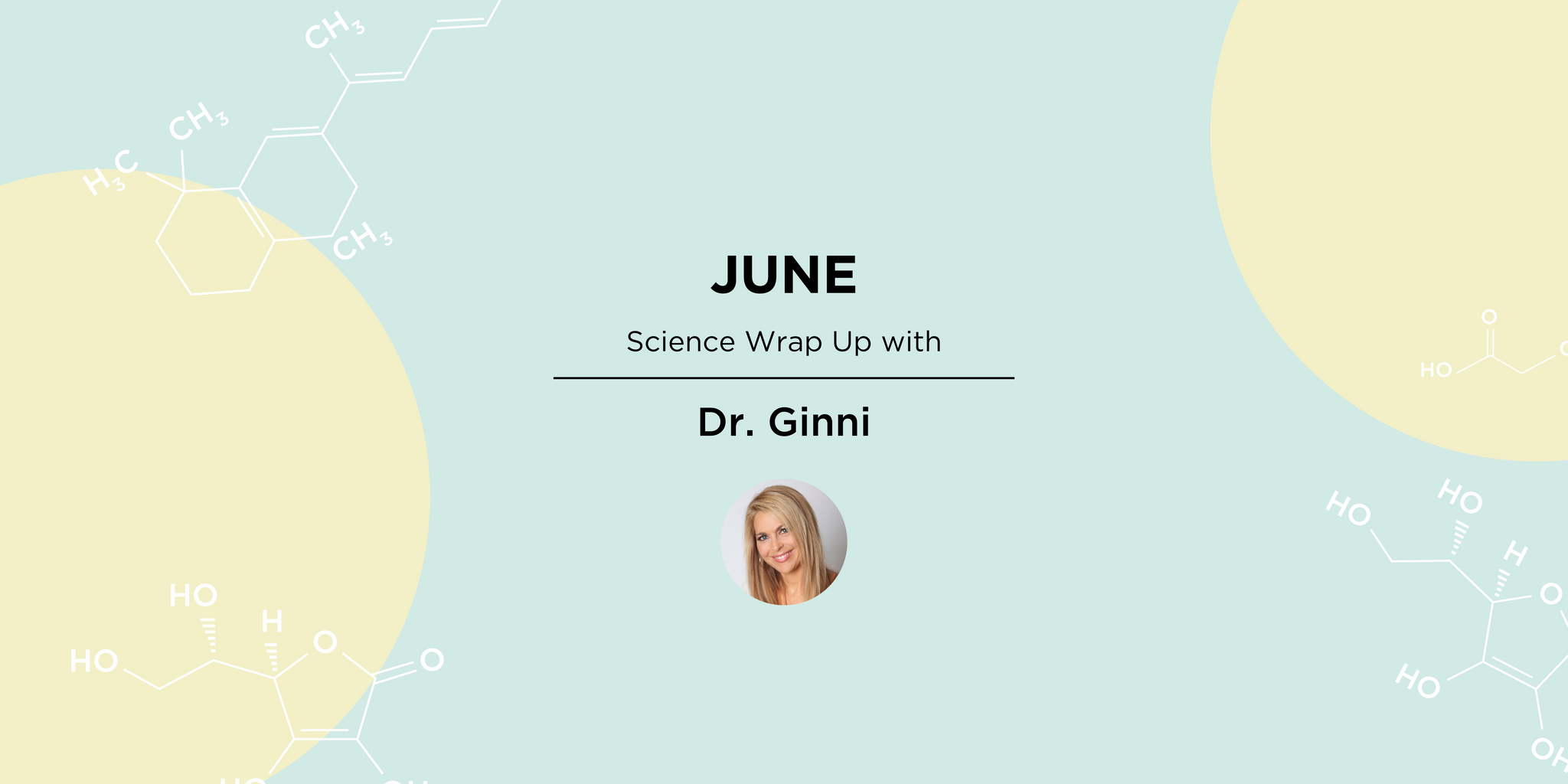 Science Hub
Science Wrap Up June 2023
29 June 2023
Ginni Mansberg
May was a crazy month, culminating in a couple of wonderful events in London. June saw us head to the US where our eldest 2 children live. We celebrated our eldest son's graduation from his MBA and his engagement.
We came home to jump on a plane 24 hours later for our very first Don't Sweat It retreat which was a real hoot.
Then we headed to the Non Surgical Symposium of the Australian Society of Aesthetic Plastic Surgeons. I presented on menopause skin.
We connected with some of our Australian dermatology and plastic surgery ESK suppliers. Wonderful as always.
Meanwhile, here is the month's latest studies!
Sleep deprivation makes your skin look duller
I really liked this study of 28 Chinese females aged 22 to 30 published in the Journal of Clinical Medicine.
Pointing out that sallow or dull skin appearance is attributable to the yellow components of skin tone, the authors found that both skin yellowness and dehydration were indeed increased by sleep deprivation.
This happened after just one night, but got worse the longer the sleep deprivation continued, peaking after 5 consecutive nights of poor sleep.
This builds on other studies that showed that 5 nights of sleep deprivation in a row increased inflammation in the body and skin and makes wrinkles look worse.
Zinc oxide after laser treatments
After various laser treatments, the skin barrier can be impaired, causing skin hydration, dryness, redness, and sensitivity in the treated area.
So I was fascinated by a brand new study published in the Journal of Cosmetic Dermatology. Korean doctors trialled a facial mask containing a zinc oxide-based cream Immediately following laser treatment for 10 min.
Those who were treated with the zinc oxide cream not only had better hydration of their skin but also experienced less redness, swelling and burning sensations after the laser treatments. 
Zinc oxide is not just a broad spectrum sunscreen, but has also been associated with wound healing. We'll need some bigger studies to confirm this finding, but this might make all laser treatments easier to handle!
Zinc Shade – UV Protection Skincare Product
Zinc Shade based daily moisturiser providing you with the protection you need from both UVA (aging) and UVB (burning) rays. (Sunscreen with zinc)
Protects from the sun's UVA and UVB rays
Can be used under make-up
Rated SPF15
Ceramide based moisturisers for acne
People with acne often have underlying dry skin.
Lots of the treatments for acne like prescription retinoic acid and benzoyl peroxide can make that situation worse.
So I was fascinated by a new study in the Journal of Drugs in Dermatology that looked at combatting this using a ceramide based moisturiser.
After 12 weeks, those using a ceramide based cleanser and moisturiser not only had less dry skin, but fewer pimples and less redness as well.
Acne is known to be associated with inflammation and impaired skin barrier function. This study suggests that just repairing the skin barrier may well help ameliorate acne.

Shop ESK's ceramide based moisturiser:
Try our new & improved Repair +
Stay hydrated all day with this deeply nourishing cream to repair irritable, dry and moody skin to restore it to its natural radiance.

Hydrate and calm dry and sensitive skin.
Improve rosacea, psoriasis and eczema symptoms. 
Repair skin's barrier function
New formula: We enhanced our Repair + by adding Panthenol (provitamin B5) and Squalane to increase hydration and skin calming properties.