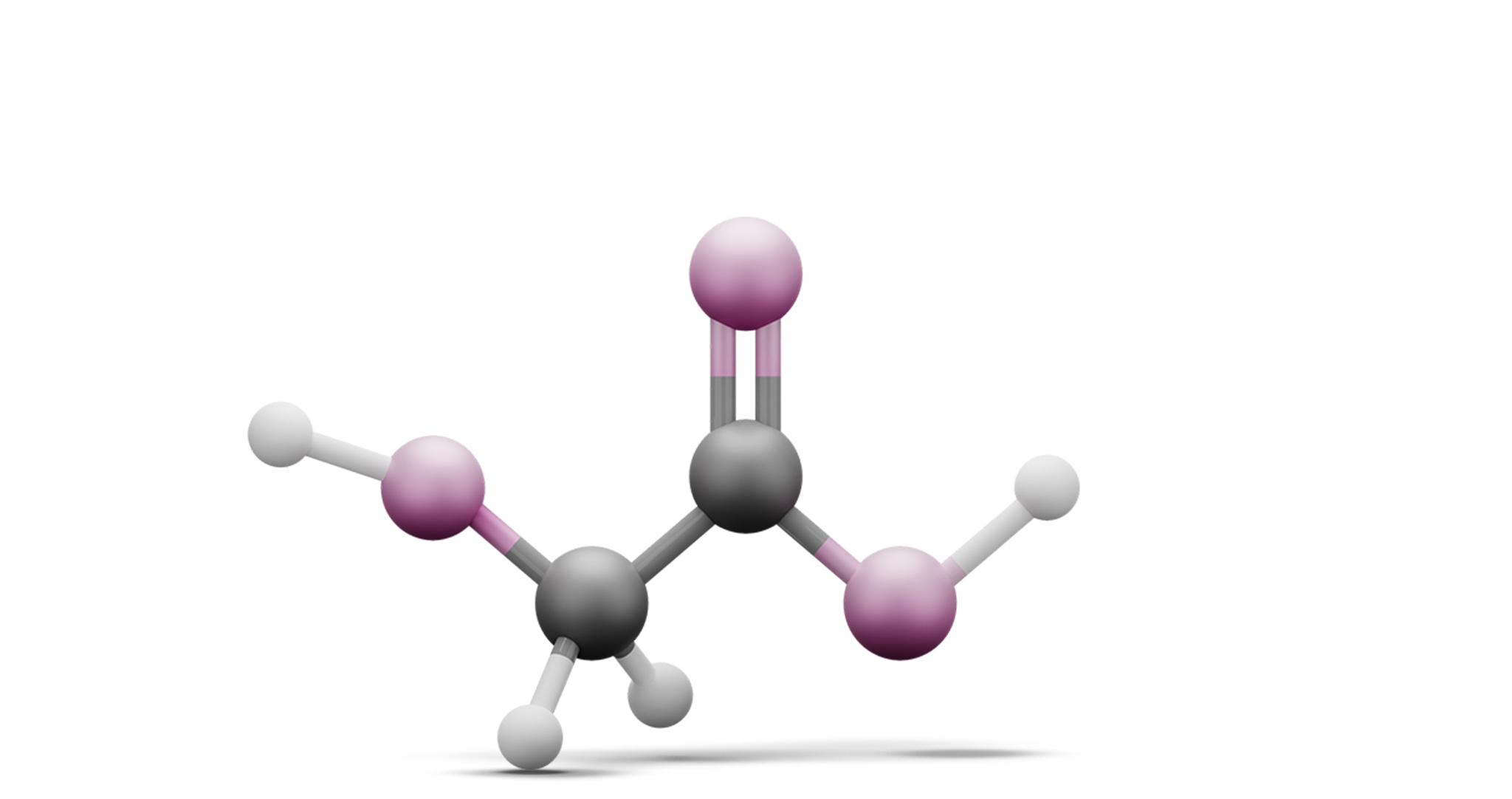 Unveil smoother skin
Alpha Hydroxy Acid
How do Alpha Hydroxy Acids work?
Alpha hydroxy Acids (AHAs) AKA fruit acids are naturally occurring organic acids that are used to improve wrinkles, skin elasticity, skin tone and hydration. They work by exfoliation of superficial skin cells by breaking apart the bonds that hold these cells together. This results in the sloughing off of dull and rough skin promoting the renewal of new skin cells. The result? Softer, smoother skin and less wrinkles. AHAs also work effectively against pigmentation by helping flush the pigment from the skin. Glycolic acid and Lactic acid also suppress pigment synthesis by inhibiting the activity of the enzyme, tyrosinase which is critical for making melanin. Glycolic and Lactic Acid are the two AHAs with the best evidence. Other more gentle AHAs like Malic, Tartaric and Citric acid are often included in skincare products but have much weaker supporting evidence.
Our Alpha Hydroxy Acid skincare allows you to get your AHAs in two evidence- based ways; Our ESK Hydroxy Cleanser has 2% Glycolic acid, 1% lactic acid and Our Smooth Serum contains 3% Glycolic Acid, 1% Lactic Acid and1% Gluconolactone. Both are in many of our skin kits. Not sure how to incorporate AHAs into your skincare regime? Head to our online skin quiz. ESK has free shipping to USA and Australia as well as a money back guarantee.
---
What is alpha hydroxy acid used for?
Alpha Hydroxy acids are a group of ingredients which exfoliate the skin by breaking the bonds between dead skin cells, allowing them to be removed. They also increase the ability of the skin to retain moisture and can stimulate new skin cell growth. That makes them great for smoothing the skin, reducing pigmentation helping clear acne and at higher concentrations, reduce wrinkles and fine lines. But there is usually a trade off between effectiveness and irritation. In addition higher concentrations also increase sensitivity to UV damage. That means extra precautions from sun exposure are needed if using AHAs at a concentration above 3%.
Which alpha hydroxy acid is best?
The evidence for Glycolic acid is best, but it also has the most potential to irritate. Lactic acid also has good evidence and is less irritating than Glycolic acid. Other AHA's like Malic, Tartaric and Citric acid have much less evidence. Effectiveness of AHAs increase as concentration increases, but so too does the likelihood of irritation. At concentrations above about 5%, home use products need to use an alkali to decrease acidity. These alkalis decrease the effectiveness of AHAs and are potentially irritating to the skin. And at concentrations above about 2-3% AHA's change from being UV protective to increasing the skin's sensitivity to UV exposure. There have not been many head to head trials of AHA's especially those used for home use (Generally 10% concentration or less). So there really isn't much consensus around which form or concentration is best. But putting all of the known information together it seems that a combination of Glycolic and Lactic acid with a total concentration below 5% is best if you want to use AHAs at home.