Hello friends, and welcome to May's Science Wrap from beautiful London.
May has been just the wildest month - there's been good and bad.
First the good; starting with our FIRST ever event in Sydney.
It was simply amazing! Our ESK customers are such a fun and intelligent bunch with some amazing questions!
Let's just say it's the first of what we hope will be many! Want an ESK event in your town or city? Please reach out to the team and let us know! We are in planning phase now!!! 
Then Daniel and I headed to London for 2 events. First an amazing Press brunch at a fabulous restaurant where along with our UK team - Caroline and Fiona – we could meet some of the UK beauty editors we have worked with by distance until now.
Then I joined forces with the truly wonderful menopause specialist Associate Professor Vikram Sinai Talaulikar of the University College London and ESK co-hosted an event on Menopause Skin & Sex in Harley Street.
We had an incredible attendance and we're planning to do it all again next time we are in London. 
Now the not as good; We sold out of Ageless in a day AGAIN after the beautiful Christal Young held a box up on GoodDay New York said "you put these patches on… I'm telling you - your under eye looks like you're 18! Go out for drinks and someone's going to ask for ID!".
To the US team who had no idea this was coming - THANKS!!!!!
Not only that but we underestimated how many people would hear about ESK and join our family.
To all of you who did - thank you and welcome!
But that did mean that we temporarily sold out of a few products...They all came back into stock during the month, but it was very frustrating. 
To all of you who had to wait for your products, thank you so much for your patience!
But busy or not, I was still able to read through the latest medical journals for our latest Science Wrap!
No, teen acne and adult acne aren't the same
A new Brazilian study looked at the similarities and differences between teens and adults when it comes to acne. 
Acne in teens tends to be more common and much worse in boys than girls.
Teens get a lot of black heads and white heads and their acne is mainly on their face but also on the trunk (think bacne) is common.
Diet and weight may or may not be a factor.
In good news, there is usually a brilliant response to treatment and your spotty teen will be pimple free in no time, treated well. 
Adults rarely tend to get acne for the first time. It usually carries on from adolescence.
Regardless though, acne in adulthood tends to be a female concern and is usually hormonal.
Blackheads are rare in adults and acne happens anywhere on the face but for adults, there's more acne on the chin and jawline than teens.
Bacne is rare in adults. Diet is always an issue and obesity makes acne worse in adults. Response to treatment in adult acne can be a bit trickier. 
Having said that both teens and adults with acne have inflammation, excessive oil production, an excessive build-up of keratin which block the pores and infection by C. Acnes.
So most skincare that works in teens is perfect for adults.
But when treating acne, the authors pointed out that the skin is more sensitive in adult acne than in teen acne, so lots of skincare products that teens can use without issue cause irritation in adults. 
Formulated using ingredients with the strongest scientific evidence, Teenage Acne Kit is designed to regulate your teen's oil production, manage breakouts, clear the skin and leave your teen's skin feeling soft and smooth without stripping the skin of moisture. 
Reduces breakouts.
Regulates oil production. 
Improves the skin's barrier function. 
Stay on top of acne breakouts with this skincare kit suitable for oilier/acne-prone skin – young and old.

Regulate the skin's oil production
Manage and prevent future breakouts
Protect from sun damage
Menopausal skin - you're not dreaming!
In case you're new to ESK, besides EVIDENCE and making sure people aren't ripped off, I have 2 passions - skin and menopause!
So when a new review of the effects of menopause on the skin was published in the journal, Clinical and Experimental Dermatology, I was eager to read.
It's pretty comprehensive but what I wanted to re-enforce is that not only is menopause skin drier and itchier with an impaired skin barrier, but it ages more quickly too!
Nearly a third of your collagen gets lost in the first 5 years after menopause with a further decline of 2.1% per year over the 15 years following menopause.
This is determined by time since menopause - not your age !
Oestrogen HRT boosts dermal collagen levels to premenopausal states and can prevent further collagen loss and you see this as early as 3 months after starting treatment regardless of whether you take a patch, gel or tablet.
Along with collagen, your elastin starts to decline after menopause, but it's not clear HRT helps stop this happening.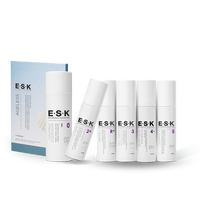 After menopause, your mature skin becomes drier, rougher and more delicate. The result? Hello itchy skin, feeling sensitive to everything and dry patches along with more fine lines and wrinkles. Well, luckily, this kit has you covered! We've carefully crafted this bundle with evidence-based ingredients, to renew and restore your skin!
Wake up with brighter, glowing and younger skin.
Reduce fine lines, wrinkles and crow's feet.
Hydrate and repair your skin.
A skin microbiome update
OK skintellectuals fascinated by the microbiome in general, THIS is for you! A brand spanking new study was published in The International Journal of Molecular Sciences.
Now, I admit this journal is too nerdy even for me, but this study was a cracker! After the gut, it's your skin that has the highest number and different types of bugs.
Aging skin has a higher pH, is less hydrated and a poorer skin barrier function compared to young adult skin - and also sees a massive change in the nice zoo of skin bugs, ie. your skin microbiome.
So can altering your microbiome help prevent skin ageing? Dunno!! Maybe!
Scientists are doing work on mice and there's work being done on the use of topical probiotics and postbiotics (stuff left over after microorganisms have died so it could be inanimate, intact cells or fragments of microbes, like their cell walls). 
There is hope that they will show promise in turning back the clock in your skin. We are NOT there yet! 
But the scientists gave their 2c worth on skin pH, a fetish of ours at ESK! A low-pH environment (pH 4–6) is essential for a well-functioning skin barrier.
An acidic skin pH is crucial for the activity of enzymes in the skin that help make and regulate fats and proteins, helping to maintain hydration levels in your skin.
Low skin pH also helps maintain a healthy skin microbiome, which in itself acts as a kind of army of warriors defending against bad bugs taking hold. So, choosing skincare with a low pH is important. 
See you next month!!