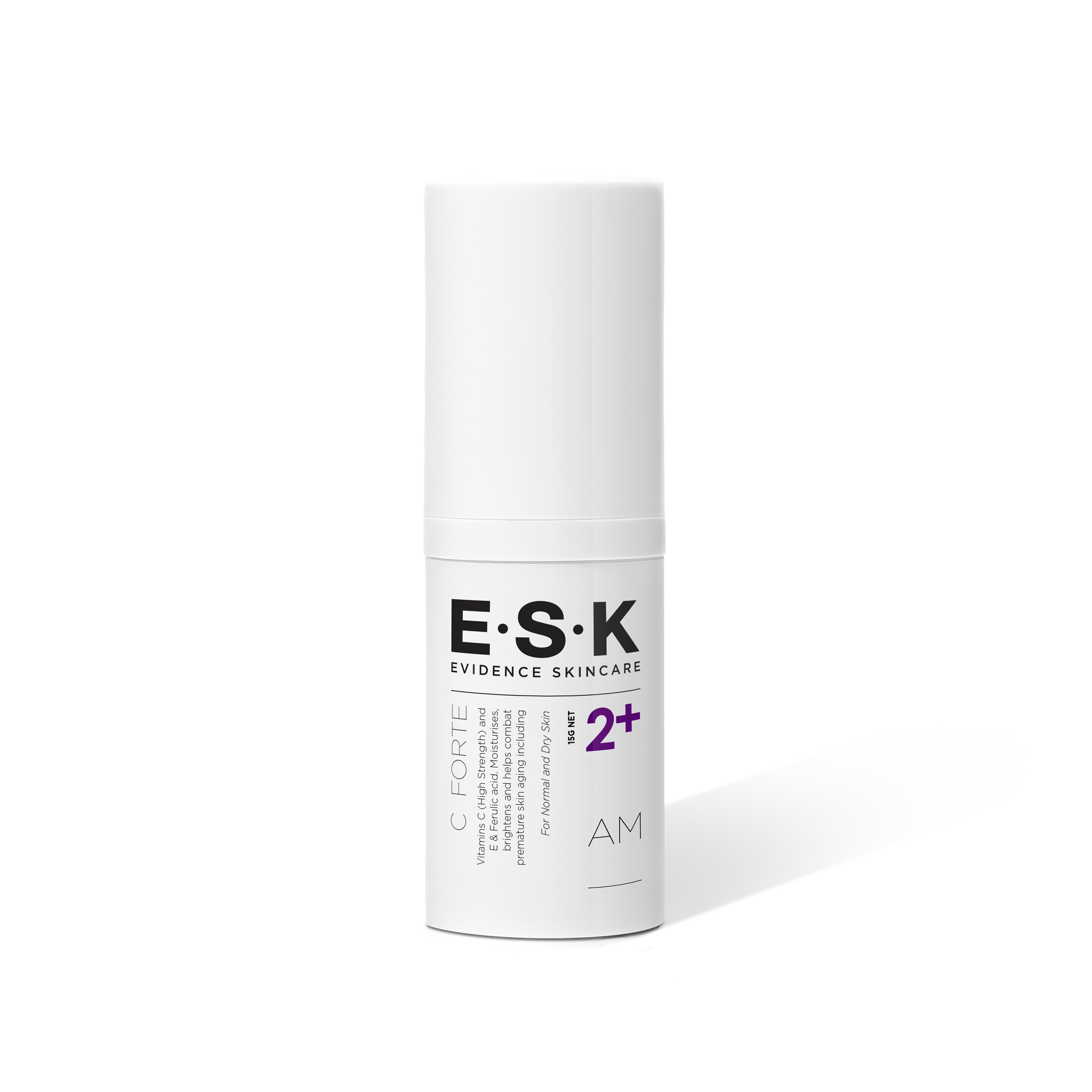 C Forte (15ml)
Hydrate and brighten your skin with this 16% L-Ascorbic Acid Serum. Vitamin C's sun damage reversing abilities are boosted when Vitamin E is added. Adding Ferulic Acid boosts it to still further for your best glow.
Hydrate dry skin.
Repair sun damaged skin.
Reduce fine lines, crows feet and pigmentation.
Brighten
skin
Repair
sun damage
Boost
collagen
100% Australian
made and owned
Cruelty free
& Vegan
Free shipping
in Australia, UK, US & NZ*
Money back
guarantee*
Description
A powerful anti-oxidant serum that hydrates, repairs the visible signs of aging and protects the skin against further sun and environmental damage.
Combined with Ferulic Acid to increase benefits there is emerging evidence for its brightening, photoprotective, anti-inflammatory, antioxidant, anticancer and anti-aging features. Combining Ferulic Acids amazing benefits with the proven anti-aging benefits of Vitamins C and E, C Forte is a step up in your daily cosmeceutical regime.
What is that weird smell?
If your C Forte smells like the kitchen or like the water that boils your frankfurters, you are not alone. It is a commonly reported smell when Ferulic Acid is paired with L Ascorbic acid. Some people are more sensitive to the smell than others. The good news is that it disappears once you have added your moisturizer (eg Zinc Shade, B Calm or Repair Plus). And most people say the smell is less noticeable as time goes on.
Evidence
L-Ascorbic Acid
An anti-oxidant, effective improving protection from and repair of sun induced premature aging. It reduces wrinkles, fine lines, skin roughness and pigmentation3. L-Ascorbic acid is naturally unstable and must be formulated in an oil base in order to delay oxidisation.
Emerging evidence
Ferulic Acid
Ferulic acid's emerging evidence suggests it can stimulate more skin cells, fibroblasts, collagen and elastin, improve the effectiveness of Vitamin C and help to reduce fine lines and wrinkles.
Usage
Apply 1 – 2 pumps to fingertips and apply to face after cleansing in the morning. Also for use on décolletage, back of hands and forearms.
For use on dry and normal skin. Note: on acne prone skin patch test and start with half recommended dosage, keeping away from the "T" zone.
If breakout continues, discontinue use Size- 50ml: Lasts 3 – 4 months when used regularly
Ingredients
Glycerin, Water/Aqua, Propylene Glycol, Ascorbic Acid, Butylene Glycol, Ethoxydiglycol, Phenoxyethanol, Tocopherol, Glycine Soja (Soybean) Oil, Ferulic Acid, Xanthan Gum